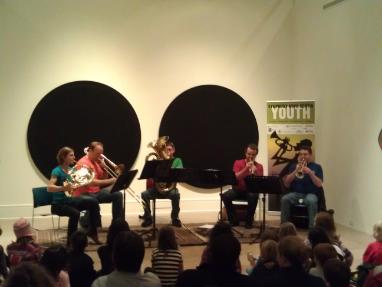 school concerts

band clinics

brass workshops

breathing workshops for band

group lessons

private lessons
"This group is, to my mind, the best possible medium to stimulate and enhance the level of brass playing in our region."
Dr Richard Gibson, brass ensemble coach and professor

of theory and composition, Université de Moncton
The Maritime Brass Quintet is committed to delivering excellent educational programming to schools throughout the Maritime regions. All MBQ members are dedicated educators committed to working with brass players of all ages. Development of the Maritimes as "brass central" is high among our goals. We have specific concerts tailored for elementary, junior and senior high schools, college or university and will adapt to suit your needs.
Concert programs can be delivered in French and/or English. School concerts include music featuring each of the quintet's brass instruments with selections chosen to show a wide variety of styles spanning 400 years.

Our objective is to deliver concerts to students that are both polished and fun, so that our young people have live, high-quality chamber music brought to their school in an engaging way. We hope they get excited about learning and appreciating music, and the rewards of commitment: to be the best you can be.
Contact us about presenting educational concerts and workshops in your school.